学校中文名称:培元中学
学校英文名称:Westminster Highschool
创办日期:1899年4月15日
校 训:有恒、崇实、自重、爱群
董事长:蔡国明
校 长:蔡蕊沓
地址:NO.60-68 MONORIO LEPES BLVD.,BALUT,TONDO,MANILA
电话:00632-5231979
传真:00632-5231979
学校简介:
WESTMINSTER HIGH SCHOOL INC. IS A NON-SECTARIAN EDUCATIONAL INSTITUTION FOUNDED BY THE LATE MADAME ELIZABETH KHO BEFORE THE SECOND WORLD WAR BROKE OUT. THIS IS NOT AFTER FOR ACEDEMIC EXCELLENCE ONLY BUT WHOSE PRIMARY OBJECTIVE FOCUSES ON THE EVANGELIZATION,THUS IT SEEKS THE COMPLETE FORMATION OF AN EXERTING ITS FULL EFFORT TO INCULCATE IN THE MIND OF ITS STUDENTS THE VALUE OF DIGNITY AND WORTH AS AN INDIVIDUAL IN ACCEPTING RESPONSIBILITY IN BUILDING A SOCIETY FOR THE FUTURE. IT BECOMES A WITNESS IN THE ULTIMATE REALIZATION OF THE DREAM OF THE FOUNDER THAT IS TO ATTTIN THE CHRISTIANIZATION OF ALL STUDENTS.
PRESENTLY,WESTMINSTER HIGH SCHOOL ENVISIONS AN ACADEMIC INSTITUTION THAT PRODEUCES GODLY LEADERS. WE ARE COMMITTED TO PROVIDE CHRIST-CENTERED,EXCELLENCE IN EDUCATION THAT INSPIRES THEM TO LOVE GOD AND LIVE A GODLY LIFE.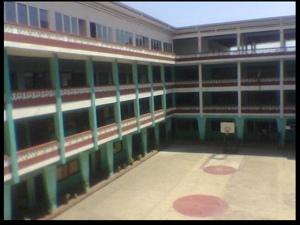 联系我们
办公室地址:4/F,Alliance Bldg.,410 Quintin Paredes St.,Binondo,Manila,Philippines
电话:00632-2427860;00632-2412906
传真:00632-2427860 转 116 ; 00632-2412906 转 116
电子邮箱:mail@pcerc.org
Facebook:菲律宾华教中心(Philippine Chinese Education Research Center)